The role of flowmeters in the pharmaceutical industry
A flowmeter is a device that measures the rate at which a liquid or gas moves through a pipe. It is important to measure the rate in volumetric or mass flow rates for a number of reasons such as; fine-tuning costs, monitoring emission levels, and following industry regulations.
The pharmaceutical and healthcare industry has increased pressure to stick to budgets and state financial accountability. Therefore, experts have been analysing how resources are used within this sector and identified where savings can be made using tools such as flowmeters.
The cost of purchasing and producing various medical gases can be extremely expensive and this is one of the largest expenditures in most hospitals. However, this usage is very rarely successfully monitored or measured as most hospitals just rely on the rate at which the gas cylinder empties to determine the amount and rate of gas used.
This method of measurement is highly unreliable for a number of reasons;
The amount of gas in a cylinder can vary greatly, even when delivered by the gas supplier.
Gas consumption and peak times of consumption cannot be accurately determined.
Leaks can go undetected.
There are a number of healthcare applications that would benefit from flowmeters providing precise measurements such as;
Drug production and administration
Applications for ancillary medical device processes
Cleaning systems
Cooling systems for physical therapy
Measuring the flow of blood or simulated blood
Artificial kidney production (hollow fibres).
Monitoring anesthetic gas consumption.
Coating of stents
Synthetic bone production
Bürkert is one of the world's leading manufacturers of measurement and control systems for liquids and gases. We are proud to be official Bürkert distributors and supply a wide range of their products. The Bürkert brand stands for optimum economy, efficiency, and design geared to the future of pharmaceutical technology.
Type 8098 FLOWave SAW-Flowmeter uses SAW (Surface Acoustic Waves) technology and is designed for use in hygienic applications common to pharmaceuticals. This flowmeter does not have any moving parts in the measuring tube and offers following benefits:
No pressure drops
No leakage problems
No dead spaces
No replacement parts needed
Excellent cleanability (CIP and SIP)
Greater independence from the medium
That's not all, due to innovative technology, the measurement is independent of flow direction and does not require any conductivity. Furthermore, the low weight, small dimensions, and minimal energy requirements reduce the installation effort and enable compact systems and cost savings.
Flowmeters for pharmaceutical applications
Bürkert provides flow sensors and transmitters suitable for both utilities and process duties within the pharmaceutical industry. Your needs are covered with Bürkert , the measuring principles of these flowmeters range from magnetic, inductive, and paddle wheel. They also have a range of materials and connections to suit different applications.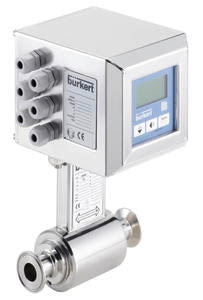 The 8056 hygienic magnetic flowmeter has high accuracy, a wide range of outputs and integrated data logger and batch controller. Manufactured from 316L stainless steel with a PTFE lining, it is available from DN3 to DN100 with clamp and other sanitary connections.
It is designed for applications with conductivities as low as 5 μS/cm. Type 8056 can control high-precision dosing operations and continuous flow measurement, with a measuring range up to 280 m3/h.
INSERTION magmeter for continuous flow measurement. Designed for pipes with diameters ranging from DN 06 to DN 400 and > 20 μS/cm. FDA approved. The version with a stainless steel sensor has been designed for applications with high pressures (PN16) and high temperatures (up to 110°C). The version with Alloy C22 electrodes allows applications with high corrosive fluids.
The 8030 paddlewheel flowmeter is ideal for non-conductive fluids like R/O systems and DI water production skids. All wetted parts are produced from FDA-approved materials. The Bürkert designed fitting system ensures simple installation of the sensors into all pipes from DN 06 to 65.
If you would like to discuss these products further in relation to your own requirements, please do not hesitate to
contact our expert team.